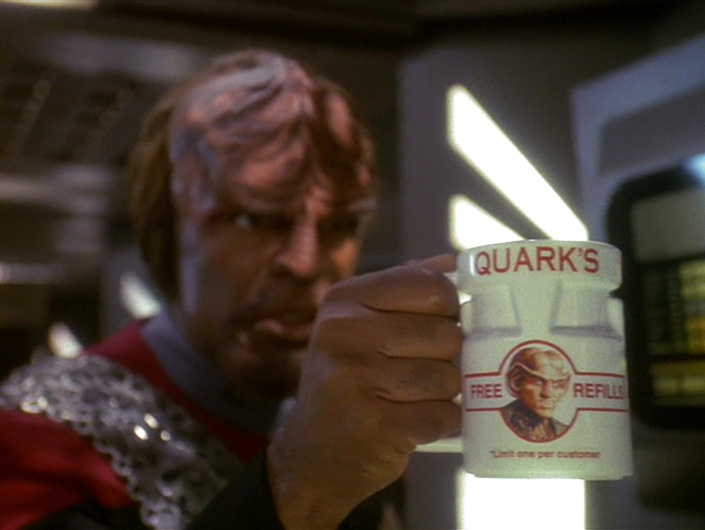 If you've followed me for any length of time, you've likely seen evidence of my love for all things Star Trek (especially The Next Generation for you Trekkies who are interested). One of my favorite gizmos from Star Trek is the replicator. In the far future, this could be an amazing tool for the promotional products industry, as shown in this YouTube clip from the Voyager series:
Watch Worf Gets a Quark's Mug on YouTube
While this is sci-fi fantasy, a promotional products "replicator" is not to far off into the future, thanks to the miracle of 3D printing. Check out this video and article that appeared on the tech news resource Mashable.com:
Read Turn Yourself into a 3D Action Figure with 3D Printing on Mashable.com
This is going to be the biggest development coming in the promotional products industry. Here are the issues that implementation of this developing technology will affect:
Inventory Issues. With the possible exception of being out of material to load in a 3D printer, we'll never have to worry about being "out of stock" on an item we want.
Customization to the Max. Over the years, I can't tell you how many requests I've received for custom molded figures or custom designed products. Typically that means a large quantity into the 5,000 to 10,000 range minimum, high cost to create the design, custom molding a model, sometimes overseas production... it's a major undertaking. And with the small business and events folks I serve, usually their quantity needed is less than 500, sometimes less than 100. It will all be possible, even on a small scale.
Timing. Need it turned around in a couple of days? Well, we have that now, especially with some of my amazing promo supplier partners. But with 3D printing, the only limitation is how fast the machine can crank out the quantity needed.
Onsite Promo. While the technology is not developed far enough to be placed on a desktop as inkjet printers are today, in the farther future, this could be used to "print" promotional products onsite at trade shows and events. No more boxes of unused and wasted promos sitting around!
Same Swag, Different Distribution. I know I may upset a few of my promo industry pals, but let's consider the day when this 3D technology is ready for desktop use in a typical office. What role will promotional products distributors play in this future? And will there even be a role? In the transition period (could be years or even decades), distributors will be able to fill a consulting role as people learn to use the technology for marketing. Actually, this is not too much different than what has already been happening with the emergence of retail promotional product shopping sites online. Distributors have had to learn how to stay relevant by offering expanded marketing service to their customers.
What's not clear is how on-demand "printing" will affect good ol' standbys such as imprinted T shirts, glass and metal items. But I look at other industries where CNC (computer numerical control) machines can create custom metal parts. And from the Mashable video, it appears that ceramics or ceramic-like items are already doable. Fabrics? Well, that might be a stretch for a while (no pun intended for T shirts).
The bottom line is that 3D printing will fundamentally change the promo industry... forever.
See any other ways this will affect your marketing and promotion in the future? Share with us in Comments below.
Heidi Thorne is the founder of Thorne Communications, a distributor based in Chicago. She is a speaker at several industry shows and is the author of the popular blog, Promo With Purpose Today. This post was originally published on the Promo With Purpose Today (http://www.pwptoday.com). Reprinted with permission.